---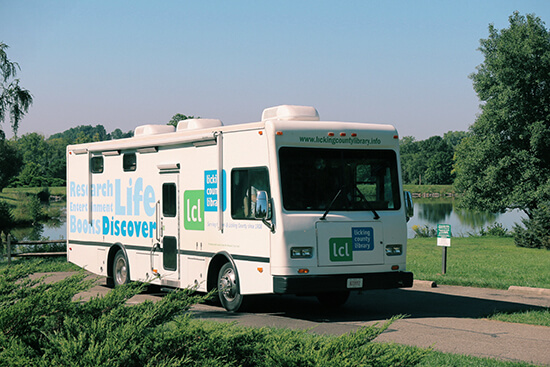 Bookmobile
Housed at the Downtown Newark location
101 West Main Street
Newark, Ohio 43055
740.349.5560
Scheduled Stops:
September/October 2018 Schedule

The Bookmobile was put into service in 1938 to serve Licking County's rural areas. 
The current Licking County Library Bookmobile is the sixth generation and was manufactured in Columbus by Farber Specialty Vehicles. Built on a Freightliner truck chassis, it features a wide-body design allowing for increased shelf capacity and 8 feet of headroom.
It carries over 5,000 books as well as DVDs, CDs, audiobooks and magazines—all available on a four week checkout period.
Family Story Time - Buckeye Lake

10:30 AM @ Buckeye Lake

Enjoy stories, songs and activities for the whole family.

Story Time at River Road Coffee House on the Square

10:30 AM @ All Locations

Join the library at River Road Coffee House for stories, songs & fun! All ages welcome. River Road Coffee House is located inside Palumbo's, on the square in downtown Newark.

Literary Costume Party

2:00 PM @ Downtown Newark - Lower Level Story Time Room

Dress up as your favorite character and join us for our first literary costume party! Play book-themed games, make crafts and collect goodies at the library. Don't forget to enter our door raffle for ...

Bookmobile Stops

3:00 PM @ Bookmobile

Kroger on 21st 3:00 - 5:00

Fall Book Sale! - Members Only Preview

3:30 PM @ Downtown Newark

A special preview sale is open to members of the Friends of the Licking County Library on Friday, October 19, 2018 from 3:30-5:30 p.m. Memberships are available at the door starting at $10 for student...

View All Upcoming Events