---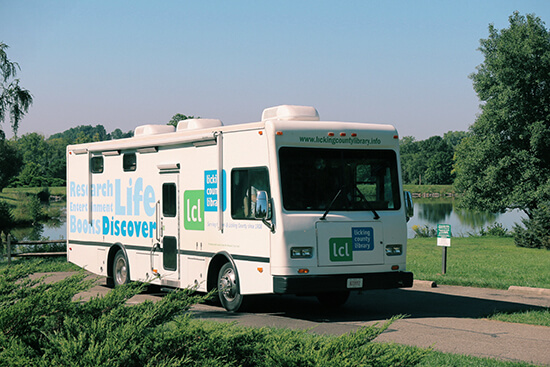 Bookmobile
Housed at the Downtown Newark location
101 West Main Street
Newark, Ohio 43055
740.349.5560
Scheduled Stops:
January/February Bookmobile Schedule 2019

The Bookmobile was put into service in 1938 to serve Licking County's rural areas. 
The current Licking County Library Bookmobile is the sixth generation and was manufactured in Columbus by Farber Specialty Vehicles. Built on a Freightliner truck chassis, it features a wide-body design allowing for increased shelf capacity and 8 feet of headroom.
It carries over 5,000 books as well as DVDs, CDs, audiobooks and magazines—all available on a four week checkout period.
Preschool Story Time

10:00 AM @ Downtown Newark - Lower Level Story Time Room

Read engaging books, sing songs, and participate in early literacy activities designed especially for your preschooler.

Family Make and Take

10:00 AM @ West Newark (Emerson R. Miller)

Imagine, create and participate! Children engage in a variety of hands-on activities that include making fun, seasonal crafts, exploring STEAM activities, and/or creating one-of-a-kind masterpieces.

Email Basics - Google Gmail

10:30 AM @ Downtown Newark - Upper Level Conference Room

Learn the basics of email using Google Gmail on both laptop and desktop computers and mobile devices. Explore the ins and outs of creating, reading, replying, forwarding, CC/BCC, attachments, signatur...

Family Story Time - Hebron Branch

10:30 AM @ Hebron

Enjoy stories, songs and activities for the whole family.

Little Tot's Story Time

11:00 AM @ Johnstown (Mary E. Babcock)

Bring your little one for a fun morning of stories, songs and socializing! This story time caters to kids with short attention spans.

View All Upcoming Events