---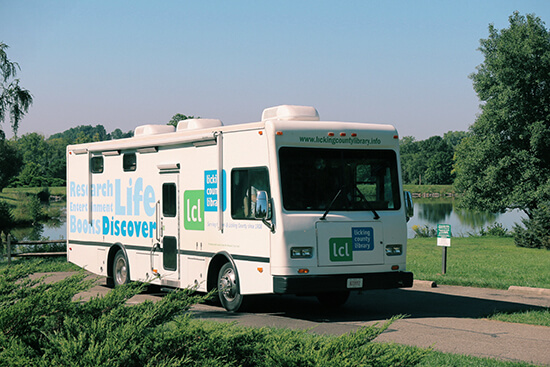 Bookmobile
Housed at the Downtown Newark location
101 West Main Street
Newark, Ohio 43055
740.349.5560
Scheduled Stops:
July/August Bookmobile Schedule 2019
Scheduled Stops:
September/October Bookmobile Schedule 2019
The Bookmobile was put into service in 1938 to serve Licking County's rural areas. 
The current Licking County Library Bookmobile is the sixth generation and was manufactured in Columbus by Farber Specialty Vehicles. Built on a Freightliner truck chassis, it features a wide-body design allowing for increased shelf capacity and 8 feet of headroom.
It carries over 5,000 books as well as DVDs, CDs, audiobooks and magazines—all available on a four week checkout period.
Onsite Help/Ask a Techspert - Johnstown

10:00 AM @ Johnstown (Mary E. Babcock)

Do you have a question about technology? Drop by or schedule an appointment about your laptop, smartphone, tablet, Kindle, software or other technology needs. Call 740.349.5509 today!

Family Story Time - Hervey Memorial Branch (Utica)

10:30 AM @ Utica (Hervey Memorial)

Enjoy stories, songs and activities for the whole family.

Comic Book Teens

3:30 PM @ Utica (Hervey Memorial)

September 9: The Stonekeeper (Amulet Book 1) by Kazu Kibuishi October 14: The Stonekeeper's Curse (Amulet Book 2) by Kazu Kibuishi

Crafternoons for Kids: Fingerprint Tree

4:00 PM @ Johnstown (Mary E. Babcock)

Create a one-of-a-kind piece of art using your fingerprints, paint and your creativity.

Tail Waggin' Tutors

6:30 PM @ Downtown Newark - Lower Level Story Time Room

Whether you're a new reader or just need practice, sign up for 10 minutes of read-aloud time with gentle, certified therapy dogs. These reading buddies are always supportive and may just reward your e...

View All Upcoming Events