---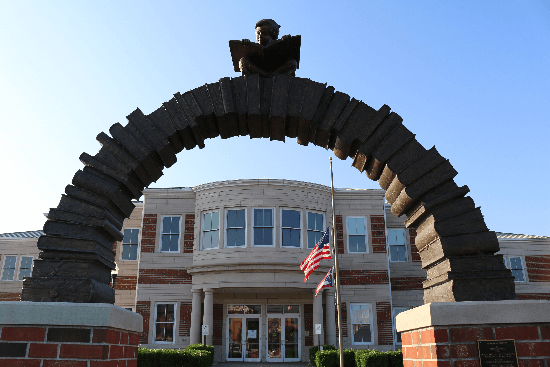 Downtown Newark
101 West Main Street
Newark, Ohio 43055
740.349.5500
Hours: 
Monday - Thursday | 9am - 8pm
Friday | 9am - 5:30pm
Saturday | 9am - 5pm
Sunday | closed beginning 2019  
The Downtown Newark Library dates back to the 1870s. In 1871, the Ladies Circulating Library was formed in a house in Newark. The reading room was moved to the basement of the Courthouse in 1880, but eventually closed.
On March 16, 1908, the Newark Public Library was officially established by City Council at the urging of several women from the Monday Talks Club, which opened the Ladies Circulating Library. The Library opened to the public in September 1908 using one rent-free room in the Soldiers' and Sailors' Memorial Building, later known as the Auditorium Theater.
In 1920, the library moved to the Hilliard House at 105 West Church Street, behind the former Newark High School.
A new building opened in 1950 at 88 West Church Street where it remained until voters passed a bond levy in 1997 to build the current library. It opened in 2000 and is the largest library in the county system.
Onsite Help/Ask a Techspert - Buckeye Lake

10:00 AM @ Buckeye Lake

Do you have a question about technology? Drop by or schedule an appointment about your laptop, smartphone, tablet, Kindle, software or other technology needs. Call 740.349.5509 today!

Homeschool STEAM Building

1:00 PM @ Downtown Newark - Lower Level Story Time Room

The Homeschool Series is designed to cover STEAM subjects for children in grades K-5. Have fun in this sometimes messy, but always fun, program involving science, technology, engineering, art and math...

All About Bugs!

10:30 AM @ Hebron

Let's read about bugs and then explore our outdoor garden to see what insects live among the plants and soil.

Next Chapter Book Club

12:30 PM @ Downtown Newark - Teen Zone

April: The Call of the Wild and White Fang by Jack LondonMay: The Call of the Wild and White Fang by Jack London June: The Call of the Wild and White Fang by Jack London

Coding Part II: Logic and Structure Common to all Coding Languages

4:30 PM @ Community Outreach Program

A continuation of basic coding principles fundamental to every coding language through hands-on activities and games. No coding experience required. Please register with Ohio Means Jobs.Will be held a...

View All Upcoming Events