---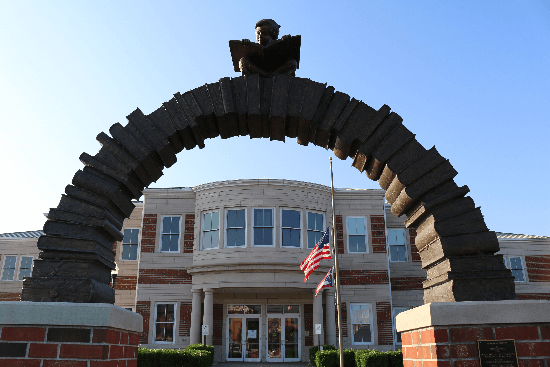 Downtown Newark
101 West Main Street
Newark, Ohio 43055
740.349.5500
Hours: 
Monday - Thursday | 9am - 8pm
Friday | 9am - 5:30pm
Saturday | 9am - 5pm
Sunday | closed beginning 2019  
The Downtown Newark Library dates back to the 1870s. In 1871, the Ladies Circulating Library was formed in a house in Newark. The reading room was moved to the basement of the Courthouse in 1880, but eventually closed.
On March 16, 1908, the Newark Public Library was officially established by City Council at the urging of several women from the Monday Talks Club, which opened the Ladies Circulating Library. The Library opened to the public in September 1908 using one rent-free room in the Soldiers' and Sailors' Memorial Building, later known as the Auditorium Theater.
In 1920, the library moved to the Hilliard House at 105 West Church Street, behind the former Newark High School.
A new building opened in 1950 at 88 West Church Street where it remained until voters passed a bond levy in 1997 to build the current library. It opened in 2000 and is the largest library in the county system.
A Universe of Stories - Family Space Sessions: I Spy Space Table

10:00 AM @ Johnstown (Mary E. Babcock)

Drop in every week for a new adventure through space. <p style="margin-bottom:0in;margin-bottom:.0001pt;line-height: normal"> Theme: I Spy Space Table

FREE "picnic style" lunches this summer!

12:00 PM @ Downtown Newark

Anyone 18 and under can stop by the Downtown Newark Library from 12 - 1pm, Monday - Friday, for a healthy meal from June 3 through August 21. No questions asked.

Next Chapter Book Club

12:30 PM @ Downtown Newark - Teen Zone

July: The Call of the Wild and White Fang by Jack LondonAugust: The Call of the Wild and White Fang by Jack London

Santa's in a Sweat - Christmas in July

1:00 PM @ West Newark (Emerson R. Miller)

This intergenerational program, co-hosted by Licking County Recycling, will help keep us cool. Learn to make wine cork ornaments, take photos in a very ugly sweater, and take part in a melted snowball...

A Universe of Stories - Voyager 2019

1:30 PM @ Downtown Newark - Lower Level Story Time Room

The contents of the original Voyager were carefully selected to represent its senders and their habitat, humans living on Earth in the late 70s. We'll talk about those choices first. Then, we'll debat...

View All Upcoming Events