---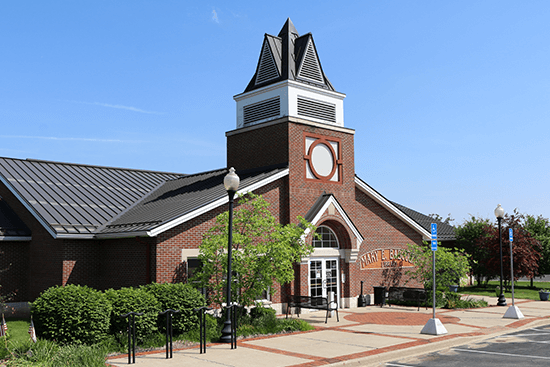 Johnstown
320 North Main Street
Johnstown, Ohio 43031
740.967.2982
Hours:
Monday - Thursday | 10am - 8pm
Friday | 10am - 5pm
Saturday | 10am - 3pm
Sunday | Closed
The Johnstown Public Library opened in 1957 as a branch of the Newark Public Library, located in a single room of the Town Hall at the Monroe Township House.
In 1995, Mary E. Babcock provided funding to purchase land to construct a new facility. Many dedicated community members, staff and volunteers worked for nearly 10 years to find an appropriate location to build a new library.
The new Johnstown location of the Licking County Library (Mary E. Babcock Library) opened in early 2006.
Wigglers and Wobblers for Babies and Toddlers

10:00 AM @ Downtown Newark - Lower Level Story Time Room

Get your wiggles out at this musically active story time for babies and toddlers.

Family Story Time - Mary E. Babcock Branch (Johnstown)

10:30 AM @ Johnstown (Mary E. Babcock) - Story Time Area

Enjoy stories, songs and activities for the whole family.

Bookmobile Stops

3:15 PM @ Bookmobile

Hopewell Commons 3:15-3:45Glenwood Condos 4:00-4:30Willow Ridge 4:45-5:15Indian Head Drive 5:30-6:00Heathwood 6:15-6:45

Circuit Breakers: Tech Tuesdays

4:00 PM @ Buckeye Lake - Buckeye Lake Conference Room

After-school fun with cool tech and coding toys—like Sphero Balls! Teams rotate each Tuesday and a new toy is introduced at the start of each month. Want to join a Tech Team? Attend our Draft Day or...

Sensory Story Time

9:30 AM @ West Newark (Emerson R. Miller) - Story Time Area

Enjoy stories, songs, and sensory play for the whole family. This program is specially planned just for kids who need a more gentle, sensory sensitive story time experience.

View All Upcoming Events