---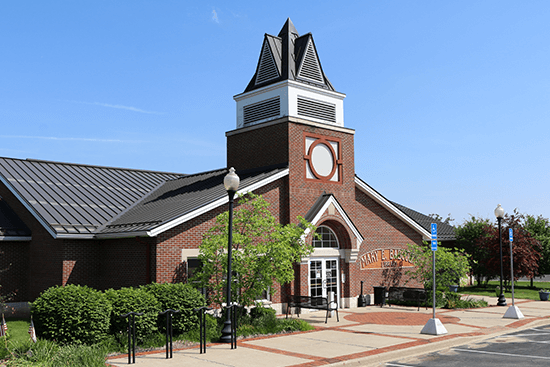 Johnstown
320 North Main Street
Johnstown, Ohio 43031
740.967.2982
Hours:
Monday - Thursday | 10am - 8pm
Friday | 10am - 5pm
Saturday | 10am - 3pm
Sunday | Closed
The Johnstown Public Library opened in 1957 as a branch of the Newark Public Library, located in a single room of the Town Hall at the Monroe Township House.
In 1995, Mary E. Babcock provided funding to purchase land to construct a new facility. Many dedicated community members, staff and volunteers worked for nearly 10 years to find an appropriate location to build a new library.
The new Johnstown location of the Licking County Library (Mary E. Babcock Library) opened in early 2006.
Onsite Help/Ask a Techspert - Utica

10:00 AM @ Utica (Hervey Memorial)

Do you have a question about technology? Drop by or schedule an appointment about your laptop, smartphone, tablet, Kindle, software or other technology needs. Call 740.349.5509 today!

FREE Tax Preparation

12:30 PM @ Downtown Newark - Meeting Room A

The Volunteer Income Tax Assistance (VITA) program uses IRS-certified volunteers to prepare and e-file federal, state and school district tax returns for income-eligible citizens, at no cost to them. ...

Bookmobile Stops

3:30 PM @ Bookmobile

Reddington Condos 3:30-4:00Eden Community Center 4:30-5:00Shalimar 5:15-5:45Marne 6:00-6:30

Parent Table Talk Series: Communication Stategies for Parents of Teens

5:30 PM @ Downtown Newark - Lower Level Story Time Room

LCL is thrilled to partner with Nationwide Children's Hospital to bring one of their PREP workshops on helping parents of teens better communicate. The Personal Responsibility Education Program (PREP)...

AARP Tax Assistance - Johnstown

10:00 AM @ Johnstown (Mary E. Babcock)

AARP professionally trained volunteers to prepare federal, state and local tax returns for low and middle-income taxpayers, with special attention to those sixty and older. You need to bring a photo I...

View All Upcoming Events