Explore On Your Own with an LCL Curated Tour
We created FREE self-guided tours that are available to download on your phone through the app PocketSights. The tours are curated, with the Licking County community in mind, to showcase some of the important, unique and historical points of interest of our county. Our goal is to provide you with an authentic experience that gives you confidence and direction to explore and discover the places around you while learning about local history and culture.
---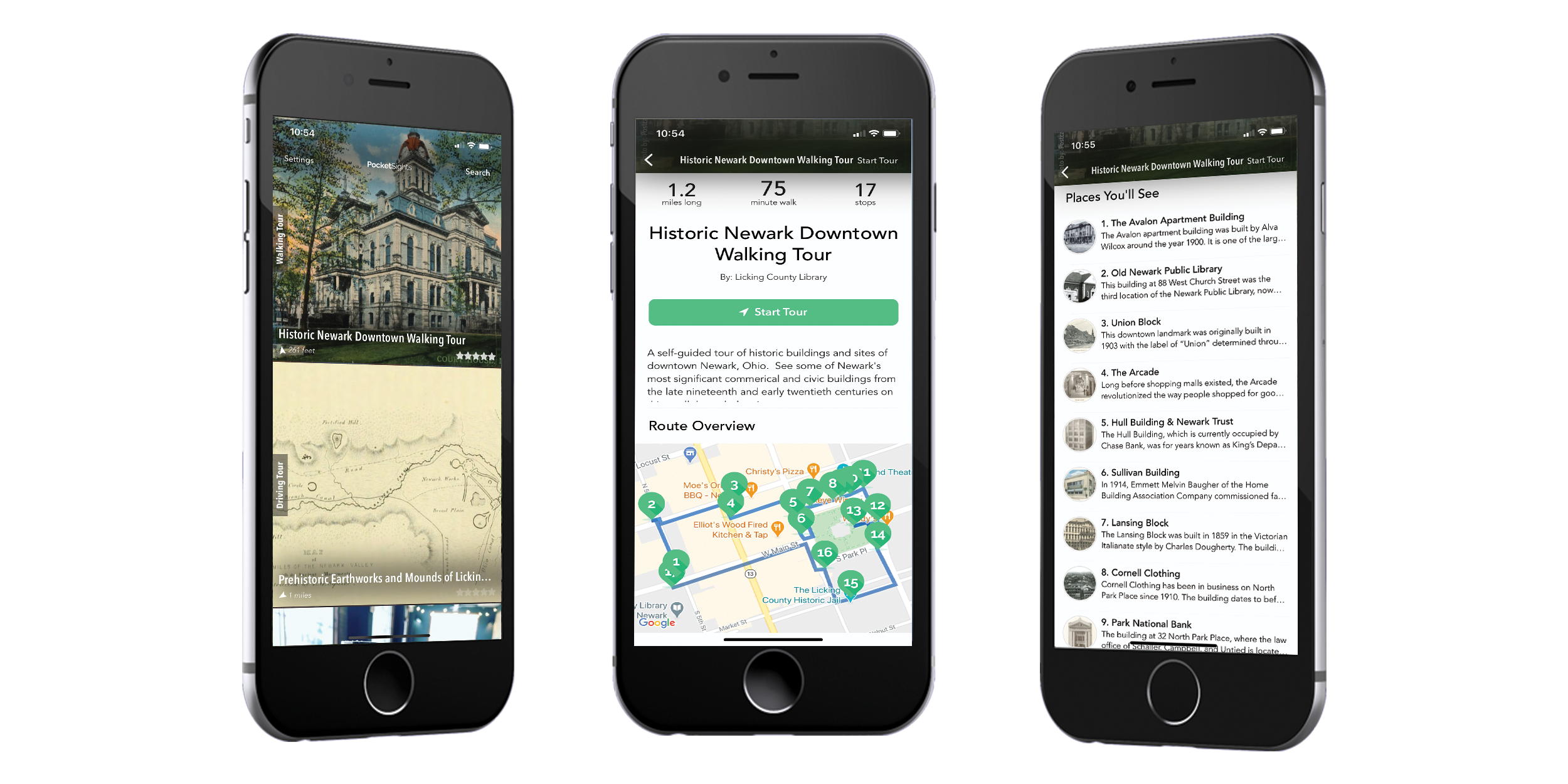 Historic Newark Downtown Walking Tour
Tour Information: A self-guided tour of historic buildings and sites of downtown Newark, Ohio. See some of Newark's most significant commercial and civic buildings from the late nineteenth and early twentieth centuries on this city center stroll. 
What You'll See: Avalon Apartment Building; Old Newark Public Library; Union Block; Arcade; Hull Building & Newark Trust; Sullivan Building; Lansing Block; Cornell Clothing; Park National Bank; Midland Theatre; Auditorium; Hotel Warden; Licking County Courthouse; Newark Lynching site; Old Licking County Jail; First National Bank; site of current Licking County Library
Click here for details on the stops.
Prehistoric Earthworks and Mounds of Licking County
Tour Information: Licking County has a large number of surviving earthworks and mounds built by Native Americans in the centuries, and even millennia, before the arrival of Europeans to North America. Constructed with ingenuity and a deep understanding of mathematics, engineering and astronomy, the sites of the Hopewell, Adena, and Fort Ancient cultures have left a lasting mark in the region. Though many structures have been lost over the last two centuries, some of the most spectacular sites such as the Great Circle Earthworks remain. Take the Licking County Library's driving tour of the earthworks and mounds that are publically accessible in the county and learn more about the area's prehistory and cultural heritage.

The first part of the tour centers around the Newark Earthworks while the second part explores the county more broadly. Note: The second half requires walking and hiking to reach prehistoric sites.

What You'll See: Wright Earthworks; Great Circle Earthworks; Veterans' Park Mound; Octagon Earthworks; Ferris Owen Mound; Alligator Effigy Mound; Infirmary Mound; Fairmount Mound; Flint Ridge State Memorial

Click here to see details of the tour. 
Haunted Newark: A Ghostly Walking Tour
Tour Information: Explore Newark's unexplained and tragic past in Licking County Library's tour of the city's buildings and spaces that are rumored to be haunted by ghosts and restless spirits. From the city's first cemetery, where graves still lie undisturbed, to the Old Licking County Jail, a place that has garnered national recognition for its paranormal activity, this tour guides you through the sites of some of Licking County's most shocking events.

What You'll See: Sixth Street Cemetery; Buckingham Meeting House; Criss Brothers Funeral Home; Avalon Building; Hudson Avenue; B-25 Bomber Crash Site; Hotel Warden; Carl Etherington's lynching site; The Captain's Ghost; Old Licking County Jail

Click here to see details of the tour. 
Historic Utica Walking Tour
Tour Information: Learn more about this charming village and its complex history on this walking tour, made in partnership with the Utica Historical Society. The village of Utica was established in 1814. Its founder, Major William Robertson, purchased the land and settled the area in 1810. The village experienced rapid growth in both its economy and its population with the arrival of plate glass manufacturing in 1903, creating a "boomtown" atmosphere. After the collapse of the glass industry in 1929, Utica returned to a quieter, more rural existence, yet it continued to have a commercial and manufacturing presence.

What You'll See: Campbell Grain Mill; Watson Building; Hotel Quick; Mystic Theater; Wilson Block, Glass Industry Mural; Utica Village Hall, Utica Wall of Honor; Hufford House.

Click here to see details of the tour. 
Hebron: Historic Crossroads of Ohio
Tour Information: A self-guided tour of the stories and sites of Hebron, "Historic Crossroads of Ohio" with this tour designed by the Hebron Historical Society in partnership with Licking County Library. The village of Hebron was founded in 1827 by John Smith to capitalize on an important confluence of two milestones in transportation that would meet in the settlement: the Ohio and Erie Canal (1828) and the National Road, or the Old Pike (1835)
What You'll See: The Buckeye and the Odd Fellows Hall; the Masonic Lodge; Dawson's 5 and 10; Hebron Canal Basin; Hebron Mill; Hebron Historical Society; Hebron Methodist Episcopal Church; Old Post Office; Porter's Barber Shop; The Hebron Armory and Hebron Power Plant; Madden House; Thomas Cully House; Cummins Ice Cream; Hebron Christian Church; Milhouse Home; Old Village Hall; Toledo and Ohio Central Railway Company Hebron Depot.

Click here to see details of the tour.

Why PocketSights?
Utilized by cultural institutions and community groups around the country to promote their attractions and local history, PocketSights empowers the user to learn and explore on their own. Recommended by peer organizations in Ohio, PocketSights is free to download and does not have in-app advertisements. It is simple to use and has important capabilities, such a text-to-speech, without inundating the user with distractions that detract from the experience, and, most importantly, from keeping an eye on where you are walking or driving. "Our tours" do not have in-app advertisements because we can't speak for others.
Easily install the PocketSight app from your mobile device's app store. Click the appropriate link for your phone and start exploring!
Apple App Store
 Google Play